Off of Bridgeway you turn east on Marinship. Marinship intersects Bridgeway where the 7-11 store is.

Make your first right at the bottom of Marinship - this is Liberty Ship Way.

Shortly after, you will come to a Y in the road. Veer to the left.

You will enter Schoonmaker Marina. You'll see a building on your right that says "80 - Suite 20". Immediately after that building, turn right.

Follow that down about half way and you'll see Suite 8.

Ignore the "parking by permit only" signs. That's really only enforced on weekends because there is a beach here - complete with kayak rentals...
DRIVING TIPS...THE FINAL BIT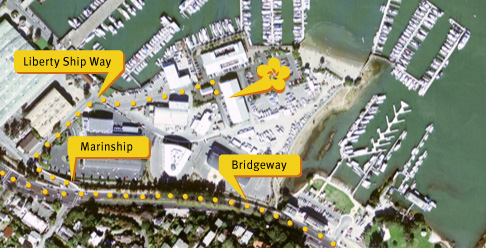 80 Liberty Ship Way, Suite 5, Sausalito, CA 94965

Directions